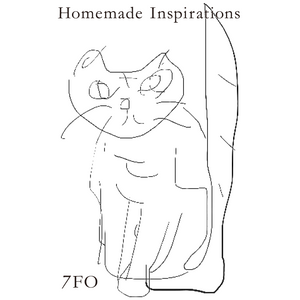 Release Date
2023年9月28日
pianola recordsでは 9/22(金) YCAM「Audio Base Camp #2」にて先行販売します
Format
Cassette Tape (DL CODE付)
Product Number
conatala tapes 003
Tracklist
Side A

1. OoO ~ oOo~
2. Mezzanine
3. Gray Tremoro
4. Rotary Human
5. Bathroom Light
Side B
1. Wire Game
2. oOo。
3. Ten-Ten
4. Tape Abuku
5. Hidden Ho Rizon
大阪を拠点に活動し、Rvng Intl.、Métron Records、EM Recordsなどの名だたるレーベルから数々の作品を発表してきた電子音楽家/プロデューサー、7FO。2022年には、コロナ禍の中で生み出されたアルバム「蘭 - 茫天」をconatalaから世に送り出しました。
そして、7FOのキャリアで最も親密な楽曲集とも言える新作カセット・アルバム「Homemade Inspirations」が登場します。このアルバムは、2015年に元々リリースを意図せずに制作された録音を中心にコンパイルしたものです。
エレクトリック・ギター、エフェクター、BOSSのルーパー、コンタクトマイク、おもちゃのテルミン、ヤマハRY-10ドラムマシンなどを駆使して、実験とひらめきが交差する密やかなひとときがカセットMTRに吹き込まれています。泡のように浮かび上がる煌びやかな電子音、空間に滲むような淡い情感のメロディが宅録風情の歪み果てた音像に包まれた珠玉のラフ・スケッチ集。
2022年に行われたpianola recordsでのインストア・ライヴの際に7FO自身が描いたアートワークをジャケットに採用し、デザインと構成はMitzdate Ko、マスタリングは原真人によって施されました。
7FO, an electronic musician/producer based in Osaka, has released numerous works on renowned labels such as Rvng Intl., Métron Records, and EM Records. In 2022, amidst the COVID-19 pandemic, 7FO brought forth the album "蘭 - 茫天" through Conatala.

Now, we have the new cassette album "Homemade Inspirations," which can be considered the most intimate collection of tracks in 7FO's career. This album compiles recordings originally created in 2015 without the intention of release.

Using electric guitars, effects, BOSS loopers, contact mics, toy theremins, and a Yamaha RY-10 drum machine, 7FO crafts a subtle moment where experimentation and inspiration intersect, captured on cassette MTR. Glittering electronic sounds that rise like bubbles and gentle, emotive melodies that seep into the air are enveloped by the distorted soundscape of a home recording.

The album cover features artwork drawn by 7FO during an in-store live performance at Pianola Records in 2022. The design and composition by Mitzdate Ko, and mastering was carried out by Masato Hara.