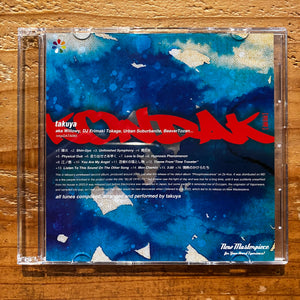 本作はZe-Kooからのデビュー作「Phosphorescence」リリースの直後、2002年頃に制作された、takuyaの幻の2ndアルバムだ。「BLUE OPACITY」というタイトルで関係者数名にMDで配られたが、特に日の目を見る事が無く、長らく紛失されていたが、2023年に突然彼の実家から発掘された。
Electronicaが日本でも発展される直前の作品だが、一部にVaporwaveの元祖・Eccojamを彷彿させられたり、シティポップをサンプリングしたりと、現在2023年に聴いて新たな発見がある事を確信し、本レーベルからのリリースに至った。

This is takuya's unreleased second album, produced around 2002, just after the release of his debut album "Phosphorescence" on Ze-Koo. It was distributed on MD to a few people involved in the project under the title "BLUE OPACITY," but it never saw the light of day and was lost for a long time, until it was suddenly unearthed from his house in 2023. It was released just before Electronica was developed in Japan, but some parts of it reminded me of Eccojam, the originator of Vaporwave, and sampled city pop, so I was convinced that there would be new discoveries when I listened to it in 2023, which led to its release on New Masterpiece.